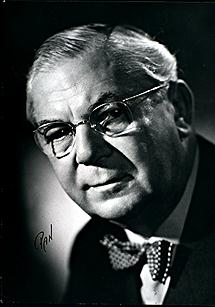 Mr. Bullen Sausages
Bullen Pilsner Sausages
Bullens pilsner Sausage is a Swedish product that HAS Reached a cult status and still sells good year after year. Bullens pilsner sausage is actually a conserved sausage product that is named after the Swedish actor and manager, Erik Berglund.
The Butcher Alvestad started producing the Pilsner sausages back in 1953, and the recipe is still the Sami.
Bullen Pilsner Sausage Tattoo
Bullen Pilsner Sausage Christmas Christmas time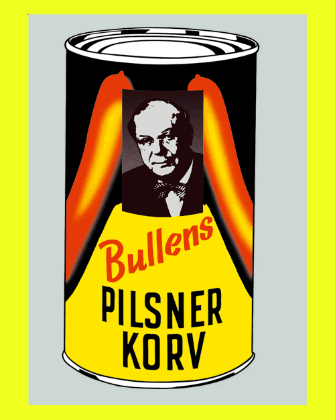 Bullens pilsner sausages is a canned sausage product named after the actor Erik Berglund (compare pilsnerfilm ). The first beer sausages produced by Alvesta slaughterhouse compound in 1953 . Today produced Bullens pilsner sausage scan . The recipe, design and packaging is still the same as at the launch. The sausage is produced partly in a shorter version sold in packs of 8 pieces in a small jar and in a longer version in the large jar (40 pieces) with a simpler design, also unchanged since launch.
Bullens sausage is called a "boiling sausage", it should therefore not be grilled or fried. Despite its name, it shall not be boiled but only heated in hot broth. If the broth boiling sausage bursts of steam. Likewise bursting sausage on heating in the unsalted water (due to osmosis ). By far the best way of heating the buns sausage is to heat the broth contained in the can.
Bullens pilsner sausage is a canned sausage product namedafter actor Erik Berglund (Compare pilsnerfilm ).

The first beer sausages produced by

Alvesta Street

slaughterhouse compound

in 1953

.

Today produced Bullens pilsner sausage of scan . The recipe, design and packaging is Still the Same as at launch. The sausage is produced partly in a shorter version sold in packs of 8 pieces in a small jar, and in a longer version in the large jar (40 pieces) with a Simpler design, overpriced Unchanged since launch.
Bullens sausage is a "boiling sausage," it must not there fore be grilled or fried. Despite its name, it Shall not be cooked, only warmed in hot broth. If the broth Boiling sausage bursts of steam. Simila
Sausage Gubben
The word cult comes from the Latin cultus, meaning worship, care. Few products have been vouchsafed to reach cult status, while selling well year after year. Rocket cheese is often mentioned with nostalgic voice, but it disappeared from the shelves many years ago. Bullens pilsner Sausage is certainly a good example of a successful cult product in the food trade.
It is never hard sell, and churn out the cult status of a product. But it is quite possible to nurture a brand and a product to cult status is strengthened with time. The first beer sausages named buns were made in the then Alvesta slaughterhouse compound in 1953. Recep tour is the same today as then. The recipe for continued success is likely to change as little as possible in terms of recipes, packaging and design.
Pilsner sausage has popular support and the product is often linked to positive events - trips, vacation, boat, summer house, caravan, mountain cabin, moose, and flick with good friends. Something you crave and remember with joy.
2013 celebrates Bullens 60 year anniversary and 2053 can Bullens hopefully celebrate the 100 year anniversary.
Bullen - a great personality
It was thus from the slaughterhouse compound in Alvesta that request came: could the actor, matkåsören, chef and cookbook author Erik Berglund imagine putting his nickname of a dog and some other products?
It could Bullen.
Erik Berglund was a contemporary big celebrity and became Bullen with Swedish people in the 1930s. All knew Bullen, but the home was his name Erik.
Erik Bullen Berglund passed away in 1963 at the age of 76. He appeared in 103 films and was alleged to have had upwards of 1,200 roles on theater stages around the country, in revues, radio and eventually television. A studious man with food that passion, dedicated esthete and perfectionist.
Big star with many listeners, he was in the radio Talking about food, as he did several times, the latter together with his wife Elsa. (When Elsa wrote their own articles she signed them with "Elsa Bullen Berglund").
In the 1920s - the time on the radio and the theater - had Bullen sent to grandfather in Paris, where he learned French and got a taste for the finer cuisine. He trained as a chef and worked in several restaurants in France, blah Hôtel Chapon in Bordeaux before joining the Claridge Hotel in Paris. For a while he was even in England to improve themselves in the cuisine.
His first matkåserier wrote Bullen in blissful Stockholms Dagblad. They were very personal maintained and signed with "Bullen" after a character he did in 1926; in the play Gold Diggers played Erik the BON VIVANT whose name försvenskades to Bullen.
Pioneering cookbook author
Bullen wrote several cookbooks, all very appreciated and partly groundbreaking for the Swedish food culture. Bullens recipes high class even by today's standards, and he was ahead of his time in the art of writing educational prescriptions; the ingredients written in bold letters in the order they would be used. Bullen felt that every cooks would taste and determine amounts and spices, instead of detailed follow recipe. Ingredients and amounts are often determined, as it is called, the advice and the condo.
"Talking about food" came in book form in 1928, "More talk about food" a year later and then "buns cookbook" that was released in the early 1930s. The books are long rarities in bookshops, but "buns cookbook" was reprinted in 1996. B. Wahl makes in 2003 a cultural achievement to the delight of food lovers and chefs across the country by giving out the book in another reprint, now under the title " Bullen Classic Cookbook ".
The cookbooks tell that Bullen celebrates the culinary diversity and his passion swung between steady, Swedish home cooking and a little more luxurious, French-inspired delights. Hawks Boiler and stewed lake stood at the top of wishful menu.
Bullen is also remembered and praised for giving the Swedish man a good dose of self-confidence in the kitchen. He showed that not only was the mistress who could cook, but there were more in the family who could stand at the stove.
On his 75th birthday was awarded to Erik Bullen Berglund Gastronomic Academy's diploma and a scholarship for his efforts in the Swedish gastronomy.
And it is understood after reading the last lines in the preface to one of cookbooks: "... by diligently following our instructions should you to figure out that in every human subject to a matkonstnär. "
Another name Bullen-quote is "... delicatessen shops in Paris are arguably at least as much interest as ever the big fashion houses ..."
Why Pilsner Dogs?
In the 50s there were upwards of 30 products Bullens name, preferably fare like dill meat and pig's feet.
Today it Bullens hot dogs and beer sausage apply. And why the latter is called beer sausage, there are different theories. One is that Bullen and the people in Alvesta thought the sausage was well suited to that particular beer. Another that Bullen appeared in numerous and appreciated "pilsner movies." Probably the truth is a combination of both, but no beer is not available in either sausage or law.
Bullen was very interested when it came to new products and actively participated when the sausage recipe tours were developed. They have since been unchanged since in 1953.
Short on product and production
A can of beer sausage weighs 455 grams, of which 240 g of sausages and 215 g of brine. The jar contains 8 sausages that are 10-12 cm long. Meat amount is 33% and fat content 14%.
Before the sausage ends up in the can has stopped, smoked, chilled, cut, weighed and cooled again. The jars are filled with brine before closure, then heat treated and preserved jar, sensibility tested and packed. Then sent sample up to the lab for inspection. It takes a whole fortnight before everything is ready and a game sausage is ready to be delivered to customers. On the other hand, has a shelf life of 3 years.